Canada Food Guide changes
So long rainbow! Hello to the new plate!
We have been accustomed to a colourful rainbow, each colour representing a main food group. Although the foods from the former 4 food groups are, for the most part, still present in the new food guide, Health Canada chose to do away with the traditional food groups classified primarily by nutrient, and move towards a focus on healthy eating patterns to promote a balanced diet. This new focus is represented by a balanced plate emphasizing a variety of healthy foods, and proportions rather than portions. Children should be eating similar proportions as adults, but on smaller plates adapted to their appetite.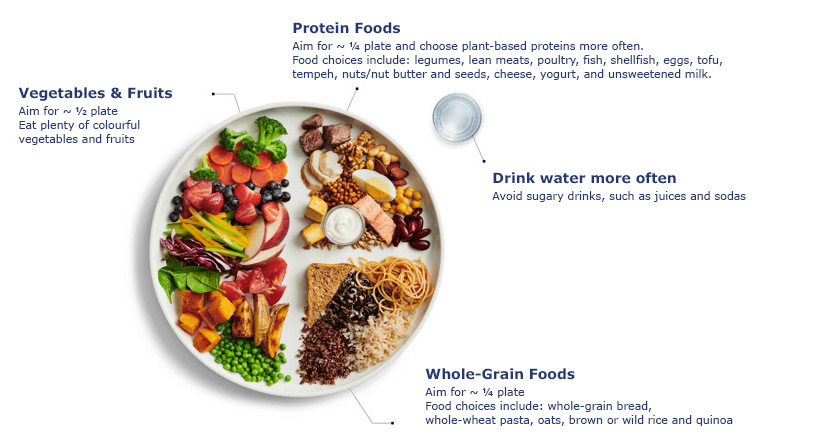 Healthy habits for the entire family
These balanced diet tips have always been a part of the healthy eating guidelines; however there is more emphasis on them now more than ever as evidence shows that healthy habits have a positive impact on long-term health.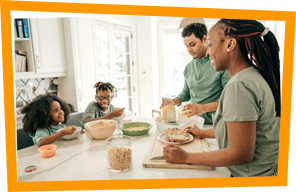 Be mindful of your eating habits and enjoy foods — This includes not only what you eat, but how, why, when, where, and how much. Use your senses and create a positive eating environment free of distractions.
Cook more often and include the little ones! — Benefits of home cooking include learning new food skills, saving money, and eating more wholesome, less processed foods. Kids are also more likely to eat the foods they helped prepare.
Eat as a family — Kids can especially benefit from regular family meals as they are starting to develop their eating habits and behaviours. Eating together as a family can help kids explore new healthy foods, establish healthy eating routines, improve their overall eating pattern, and explore cultural and traditional foods.
As a parent or caregiver, you can be a positive role model. By practicing healthy eating habits, you can help create a positive relationship with food and the foods your kids will eat. Remember that every child is unique. Offer a variety of healthy choices and adapt portions based on appetite, activity levels and growth spurts. For example, toddlers and preschoolers have smaller stomachs, so may need to eat smaller amounts of foods more frequently.
This balanced plate is a great example of healthy eating, but let's face it, kids don't always eat what's on their plate. If you're worried that your child's not getting enough of the nutrients needed from food alone, PediaSure Complete® may be a good choice to provide complete, balanced nutrition as a complement to a healthy diet. PediaSure Complete® can be used with or between meals, as a snack or in one of these easy recipes for kids. Talk to your pediatrician about your child's nutrition and PediaSure®, the #1 pediatrician-recommended brand.